Our Blog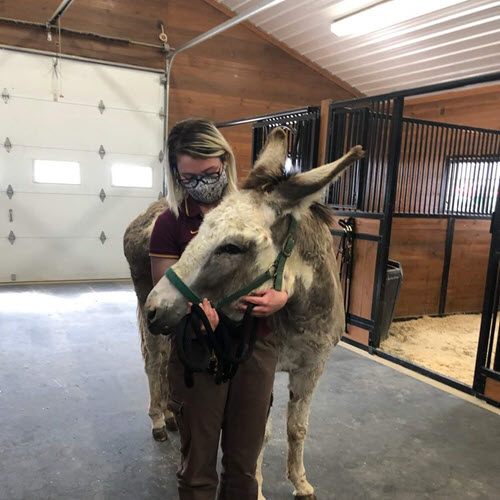 2020-10-13
There is an unfortunate stigma in the veterinary field about internships. They are thought to subject recent graduates to extremely long hours and extensive grunt work for little reward. This has been far from my experience at Weitz Equine over the past 4 months. I have been privileged to work with incredible clients, patients, and doctors and be welcomed into the career of veterinary medicine.
Beginning with my first appointment with Dr. Paul on my first day, I met a patient who embodies much of my experience here. Felipe the donkey had been having some lameness issues and there didn't seem to be a clear-cut reason. I ended up seeing Felipe several times in my first few weeks with Weitz equine and he welcomed me with open ears. By the second day I met him, he would rest his head in my arms while I scratched his ears and neck. I thought maybe he sensed I was nervous and needed a pal, but his mom informed me he has a thing for blondes. Felipe ended up making a full recovery, and I won't soon forget the happiness and relief I felt when a patient welcomed me so willingly.
This is how I continued to feel as I met more and more clients and rotated through working with Drs. Paul, Mary, Melissa, and Eva. Everyone was so patient, kind, willing to trust me. Even when I started covering the on-call for the weekends, no clients hung up when they learned the intern would be coming to see their horse and they waited patiently while I called to run many questions by the other doctors so I didn't miss anything.
As veterinarians, we go through an incredible amount of work to get to the point of being a doctor and this creates a huge amount of pressure when you finally go out into the world and start practicing. There is so much to remember and there is way more to learn. The stress of that is very daunting for a new vet, but it can be much easier to face when working with and for good people who want to help you.
For those of you who don't know, I am heading to Georgia for the winter to continue my internship in warmer weather while things slow down a little up here. I will be back in the Spring to finish out my year-long internship. I want to thank all of the clients who made this time enjoyable and exciting, as well as Paul, Melissa, Mary, Eva, Katie, Diana, Jessica, and Maggie for being amazing colleagues and for teaching me more than I ever thought I would learn in my first 4 months as a veterinarian. And of course a big thank you to all my patients who put up with not only a veterinarian, but an intern.